Custom Signs to Fit Your Business
Quicksilver Signs can make your sign out of any number of substrates to suit your needs.
Whether it's short term economical corrogated plastic signs or signs that will stand the test of time, we can design, produce and install a quality product on time and manufactured to fit your budget.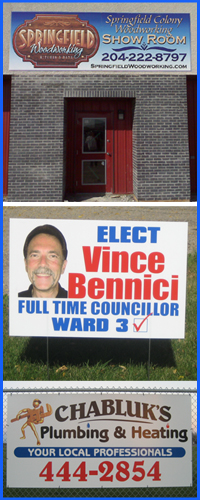 If you're not sure what type of sign you need, give us a call or email and we can work out the details.

The type of sign substrates is ever changing with new materials coming out every year.
Wooden Exterior signs for the highway or your business
Corrogated Plastic (Coroplast) for interior or short term exterior use - Great for elections and business promotion when using economical wire stands for easy install
Dibond is an aluminum faced plastic core material, very slim and durable for our tough climate
Email quicksilver@mts.net for a fast, free quote.