Decorative Window Film
Decorative "sandblast" film can bring color and texture to virtually any of your glass windows, doors, or room dividers subtly or sensationally. You can customize a space with a corporate logo or signage and choose from dozens of patterns to create enriching visuals. Achieve the look of fine etched glass, without the expense or permanence. Diffuses visible light from all sources, while enhancing the look of the glass and increasing privacy. Ideal for shower enclosures, bathroom or bedroom privacy.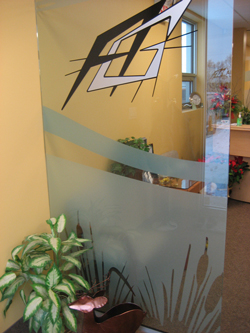 QuickSilver Signs & Graphics can also supply & install Window Tinting for your home or business. Create daytime privacy with "mirror" film that you can see out of but those on the outside will only see their reflection. Cut down dramatically on harmful heat and UV rays, lowering your ultility bill and protecting your furniture and interior from the suns harmful UV rays.
Cost-Effective Protection with Security Film. In today's world, crime, vandalism, terrorism, natural disasters, and everyday accidents are real concerns. Made with thick, heavy-duty polyester bonded by strong adhesives, professioanlly installed safety and security films provide an optically clear yet powerful barrier that helps hold glass in place should impact occur. Ideal for use in high-traffic areas with windows or other surfaces vulnerable to "smash-and-grab" theft or vandalism.
Email quicksilver@mts.net for a fast, free quote.