Light Up Your Business!
Upgrade Your Lighted Sign…With Replacement Sign Faces From QuickSilver Signs!
Does your business have a need for a different outdoor lighted sign than what you currently use? Perhaps your company is changing its identity. Or maybe your sign needs updated information. Regardless of the reason, one thing is likely true…you don't want to replace the entire sign. We make custom replacement sign faces that you can insert into your current lighted sign cabinet.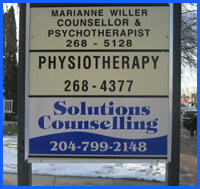 We can also supply and install a brand new, fully functioning illuminated sign box on your building or free standing on your lot. Price varies dramatically and depends on sign location and access. We can also take care of any City of Winnipeg sign permits that may be required.
Email quicksilver@mts.net for a fast, free quote.