Sandwich Board Signs
Sandwich boards or A-frame signs are double sided easily transportable display signs. These signs can be used both indoors and outdoors - excellent for attracting attention to special offers or sales your store might be have.
Available in various sizes as well as custom shapes.
Wind Signs shown on the right fit 24 x 36' coroplast inserts, have wheels for easy mobility and have bases which can be filled with water or sand to keep it upright in heavy wind.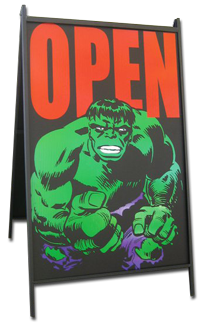 Metal A-Frames shown on the left come in a variety of sizes and work great with coroplast inserts of 24 x 36" and 32 x48"
Custom Wood A-Frames are used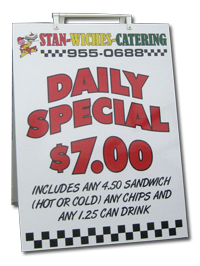 when a more permanent message is desired, wood construction makes them heavier than the lighter coro/metal frame option. Graphics are applied directly to the wood face.
Email quicksilver@mts.net for a fast, free quote.