Magazine & Page Layout

QuickSilver Design is a full service design company. If you need a magazine or catalogue designed, we're the ones to call. Giving the magazine a consistent look with striking graphics is a sure fire way to attract your target audience. We can even setup the advertisements for you. We'll design the whole book and send the print ready file to the printer.
Click here to download a low resolution pdf of the latest Uniquely Manitoba Magazine.
Click here to download the Mobile Matre'D Restaurant Guide.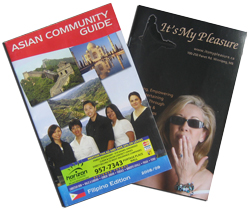 Catalogues are the ideal way for your customers to have an on-hand look into your inventory or services, keeping you one step ahead of your competitors
Email quicksilver@mts.net for a fast, free quote.